I've been providing website copywriting services for a long time. Businesses hire me to write new, fresh content for their websites and blogs. I write my own content for my own sites. Sometimes I create new content just for the sake of creating new content keeping my writing skills honed. Knowing how to write – and write well – is a beautiful thing.
Many business owners invest a lot of money in having a website professionally designed and hosted in a secure web hosting environment. Their website is THE focal point for their online marketing efforts because it's where they get to tell their story, their way. It's their little patch of digital advertising space, their blinking billboard along the internet superhighway, hoping to catch the eye of the visitors whizzing by.
Too many businesses, though, have websites that are visually rich but SEO poor. They may have hired a great web designer to create a beautiful site but that person didn't provide SEO copywriting services that would help make their content more findable online.
An example of website copywriting services
Below is a recent example of SEO copy for a dental practice. The page is actually 4 times longer, so all you're seeing here is the content visible above the fold: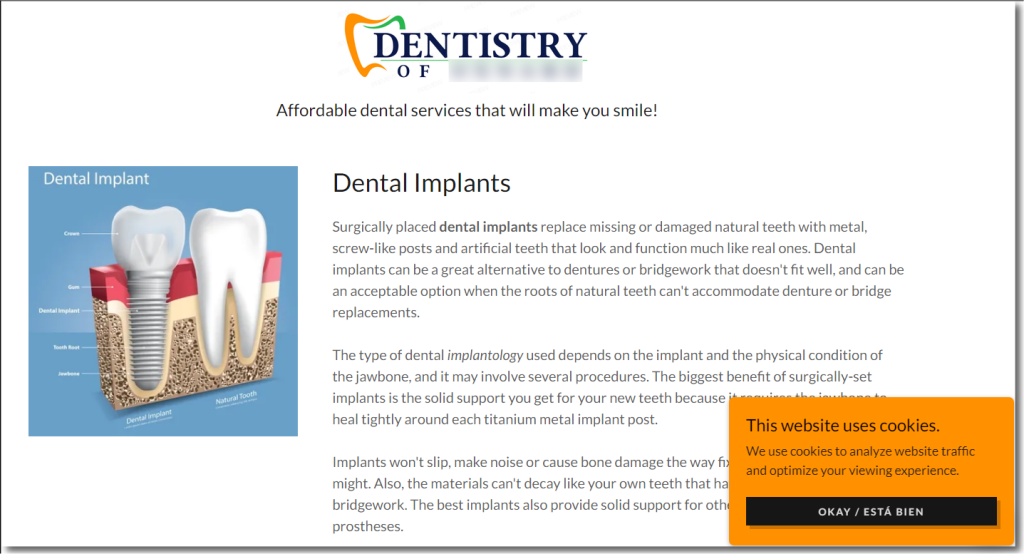 This page is essentially a long-form piece of sales copy, designed to educate the visitor about what implants are and how they can be an effective solution for many dental patients. The 546-word page is written using various short and long-tail versions of the keyword "dental implant", strategically placed, and at a keyword density of about 2%. The page ends with a clear call-to-action to make an appointment for a free implant consultation.
Need SEO copy writing services to make your website even more findable online?
There's no point in having a website if no one can find it online. SEO copy makes all the difference. My SEO copywriting services are for hire, so contact me today.