Ad copywriting for real time bidding (RTB) digital display advertising campaigns using banner ads and videos can be a real challenge because of the size constraints of the canvas you're working with.
How can you pack enough information – ad copy and visuals – into a small box that's sometimes no larger than 250 pixels wide by 250 pixels long, and still produce an ad that earns a click from the viewer?
Well, as I've said before, creating effective ad copy that gets the click is both art and science. Choosing the right words, images, and animation levels are key to producing banner ad creative that catches the eye and intrigues the viewer enough to click on it. Consumers who spend any amount of time online are besieged daily by this kind of content, so the trick is to stand out from the rest of the advertising without irritating the viewer while still getting them to take action.
Below is some of the ad creative I've produced as a digital copywriter for clients over the years, typically running them in cold outreach and website retargeting real-time bidding campaigns.
Some ad copywriting examples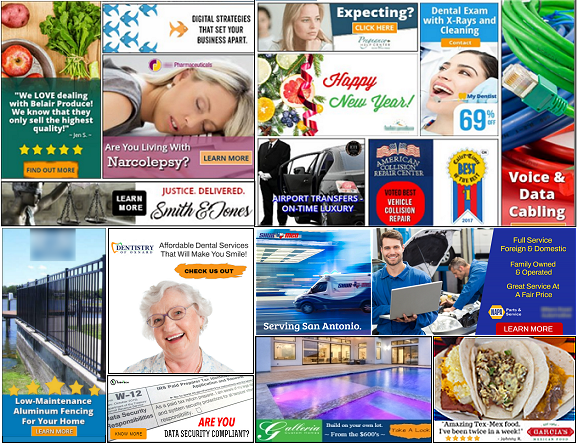 Clicking on the ads sends the viewer to whatever web page or landing page is the intended destination of the campaign. I've found that of the three types of display ads – branding, special offers and customer reviews – the best converting ads are the 5-star customer reviews.
Of course, creating highly effective advertising involves first producing the creative and then running at least two different versions to measure their respective clickthrough rates. A/B split testing your copywriting text and graphic selections will help improve your ads' CTRs over time and give you the best return on your marketing investment.
Are you looking for a digital copywriter to help with new ad creative?
If you're looking to hire a seasoned copywriter to produce effective digital display advertising for your own company, contact me and let's chat.