Email copywriting involves creating compelling email content and using it in outbound sequences. It's still one of the most cost-effective forms of marketing today. Email can help brand your company, inform and entertain new likely prospects, and move them to take action. I've been creating email sequences for years and I consistently generate some of the best open and clickthrough rates for cold email in my industry.
Email marketing has two basic components – 1) the email autoresponder system (MailChimp, Constant Contact, Active Campaign and others) that sends out the emails, and 2) the email sequence itself. An email sequence can be one single email sent once, or it can be any number of emails, all sent automatically at predetermined times.
There are various types of email marketing campaigns that companies use depending upon what their desired outcomes are. Some campaigns periodically blast out special offers to a list of faithful customers, while other campaigns are specifically designed to reactivate previous customers who haven't engaged with the company in a while.
One example of email copywriting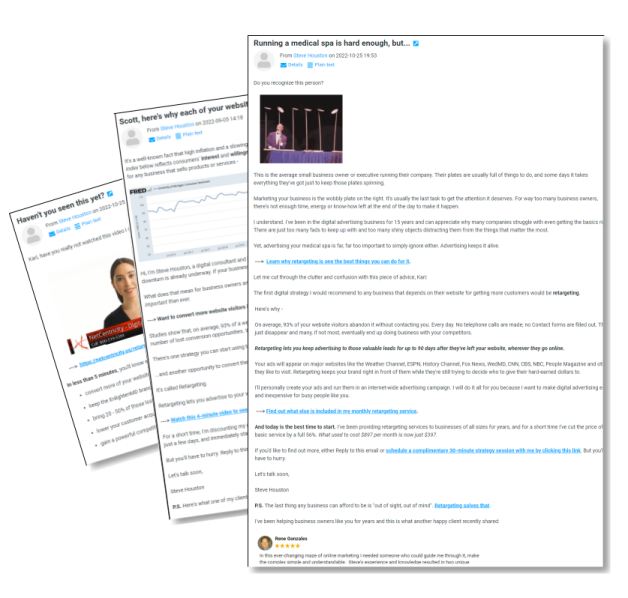 The emails above are part of a 6-touch email sequence designed to move new cold prospects through a sales funnel. Each email is written to generate a different emotional response in the reader over the six email span, resulting in better-than-average open rates and clickthrough rates for the campaign.
That's why effective email copywriting is as much science as it is art. It's not just about scribbling out a few words and sending them out. That's called spam and sending poorly-written email content like that to an indeterminate audience is a sure-fire way to damage your brand. No, email marketing requires a plan to do it well, and it's something else that requires A/B split testing on a regular basis to continually improve your campaign results.
Even today, far too many companies still under-utilize email marketing. Done well, it can give a company like yours as much as a 40:1 return on your investment and should therefore be a staple in your company's marketing mix.
Need help with your email marketing?
I may be able to help. Contact me and let's talk about email marketing for your company.